new post new post
4:34 pm
say something!
(0)
ok UPDATE. finally got off my lazy bum and decided to update my decaying blog
This is pretty long ago but.... I'M AN OFFICIAL ORGAN DONOR!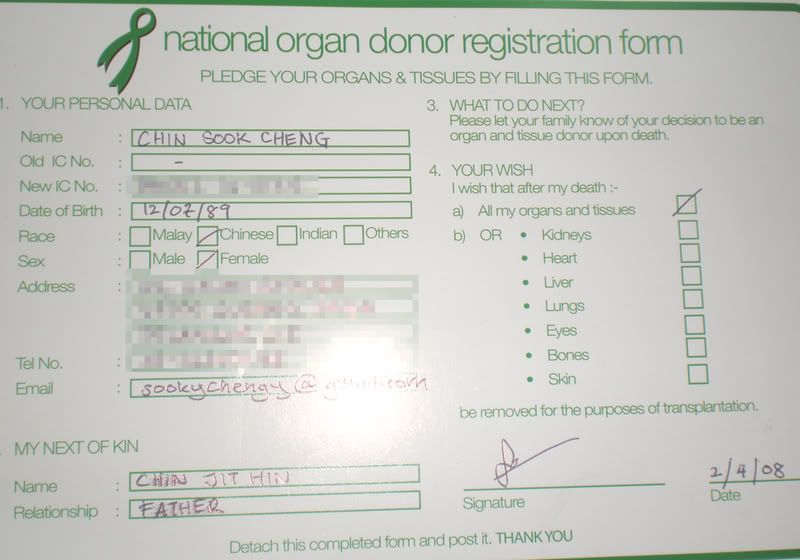 details blurred out so no weird stalker shall come to my house. date of birth not blurred out for a reason *hint hint*
the card i'm supposed to keep with me all of the time just in case of my untimely death. funny thing is that i lost this card right after i handed in my application form. which makes my whole application kind of pointless until i try to find a new card. which i will
then last weekend i went over to renaissance kl to sleep there for one night (i like sleeping in hotels and since my father has a meeting there.......... :D)
I brought my mariebs (imu foundation year's bible) along to study there.
ahahaha... as if i would study there.
as a consequence, i didn't study there. in fact, i camwhored!
the view from the hotel room. it's funny how it looks like there is a halo surrounding KLCC. It looks like some kind of spaceship is going to descend from the ring of light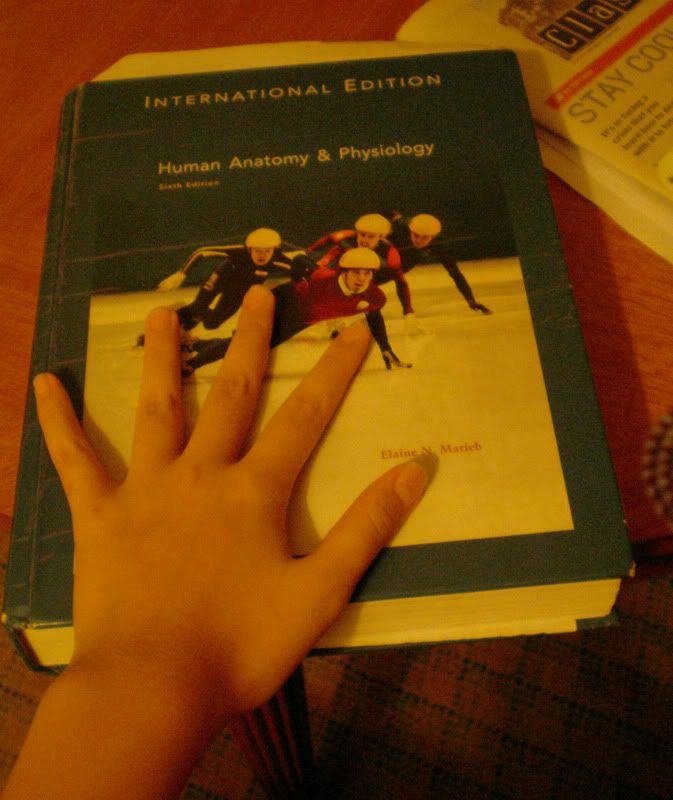 Mariebs- Physiology and Anatomy book. Look how big it is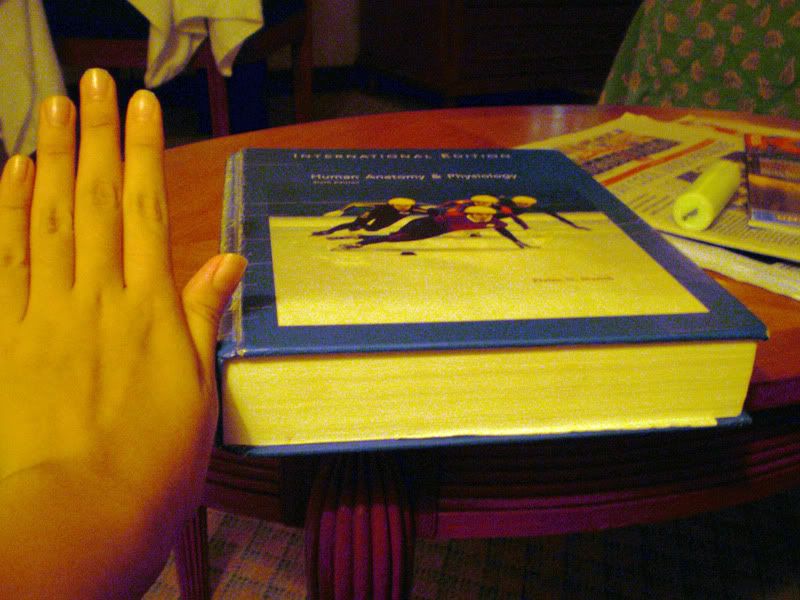 Then look how thick it is.... sob sob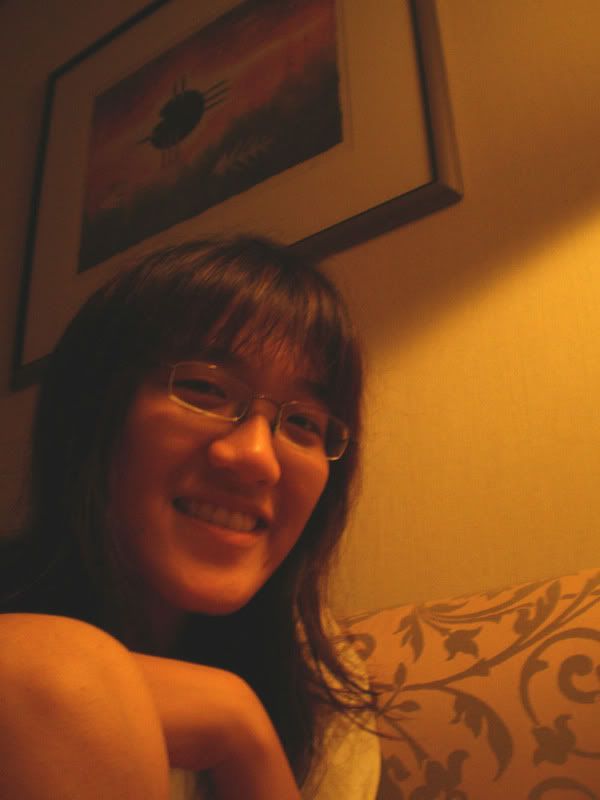 Camwhore while i'm supposed to be studying. smile smile smile and hopefully all the medical facts shall enter my brain
camwhorer in sookie awakens in the midst of boredom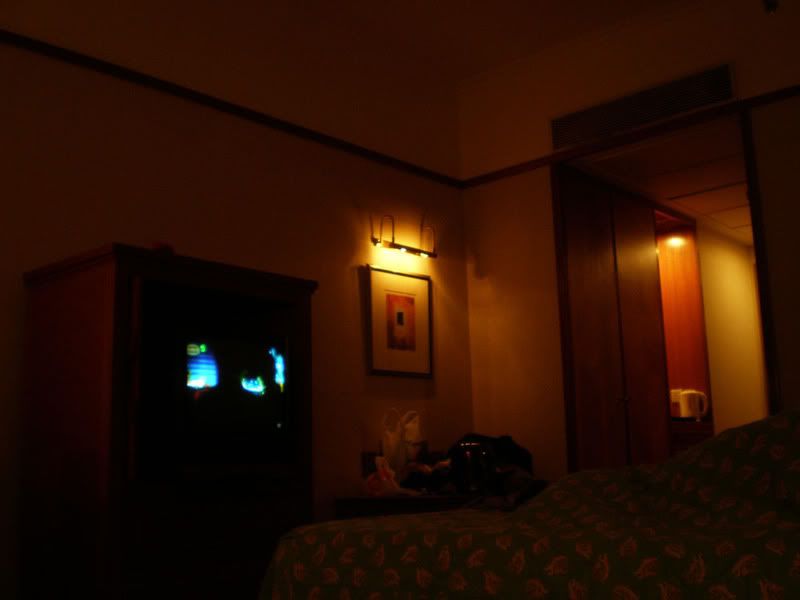 The room we were in. nice le.... i miss that room now
Just finished up my assignment on atkins diet (phew) and now i have to study. Exams in about 2 months time. And so many things to memorize.
I'm supposed to understand/memorize about half of the Mariebs book by the end of this sem. And finish the whole book by the end of this year... ahhhh the horror!!!!
till the next update :D
PS: NO.... i won't complete that tag cause it gives me headache.
i shall just randomly say some actors name here:
3rd: errr... i just watched pushing daisies. ok the main actor from pushing daisies whatever his name is
2nd: Light from death note. (see... running out of ideas already)
1st: the sexiest guy in my list of famous ppl is .................err................
...................................................ahhh..............................
.......................oooooooo......................................................
ummm...........................errr..................................................
.......................... neil patrick harris. lol i just googled actor on google images and his picture came up. :D
ok done!!! yayayayayyaya!!!!
The sexy man tag
4:50 am
say something!
(1)
another tag!!!
omg... i shud just have a blog for tags. i think i've done 20++ tags.
I present to you....
THE SEXY MAN TAG
01. Compose a list of YOUR top ten sexiest famous men.
02. Collect one picture of each guy on your list.
03. Post them in your journal.
04. Tag five people to do the same.
Hohoho... are you guys curious? since i'm not the kind of person who talks about sexy man all the time, this is a rare moment.
but my list is rather limited by the shows i watch. Time to find the names of actors in those darn movies (google is my best buddy)
hmmm... in no particular order though.
10. Orlando Bloom.
Like... wat the heck is he doing here?
I like his character in LOTR only though. Patented blonde hair. and blue eyes........ (i think he had blue eyes playing legolas right.... it'll be super weird if he didn't wear any contacts. blonde hair with black eyes = weird)
9. Takenouchi Yutaka
Seriously... this tag is a lot of work. Remembered him from the japanese drama, dekichatta kekkon. Strange but I usually like the characters the actor portrays not the actor themselves.
He reminds me of takeshi kaneshiro in this hairstyle.
damn.. all of them look a like.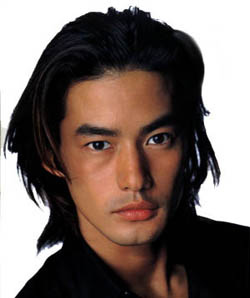 8. Adrien Brody
Actor from The Pianist and Hollywoodland. Oya, and king kong too
I think I found out why i like the characters more than the actors. Look at adrien on top. He looks nice here. Suddenly... you google him up and you get pics like this:
Like... OMG!!! what on earth is he wearing? It's like his trying to dress up as a black rapper or something. In my eyes... adrien brody is no longer hot. But then i won't have enough guys to fill up the whole list.
The real world really is less pretty than the world of fiction.
7. Tsumabuki Satoshi
Another random japanese actor. He's more cute than hot though
6. Hugh Laurie
House!!! I love house.
5. (omg... this is only no. 5?) Sherlock Holmes
cause i just spent the last hour reading his biography at wikipedia and is currently brain dead.
4. Matt Damon
Because he is a cool secret agent in the Bourne series. I dunno.. i had to google for a list of actor's name because i forgot about most of them.
Well... i didn't really watch tv that day but instead slept right through the whole day. And i totally forgot about the tag. So here I am, 1 week later, to add the last 3 remaining guys:
3. Johnny Depp
After much consideration.... here he is.
2. ARGHHHH MY BRAIN IS FRIED! I CAN'T THINK ANYMORE!
seriously tiring tag :(
McDonalds
2:53 pm
say something!
(0)
mcds like to con ppl with extra large illustrations of their food.
take this for example:
real mcmuffin is like... half the size. if u compress the bread... it's one third of that pic's size.
so RM4 it's not really that cheap after all. And all their breakfast menu cost at least RM6.90 already!!!!
at least their sundae cone is now rm0.50. :) but prob they will give us small cones and less icecream
oya.. lemme show all of u my pimped out desktop (click on pic for
larger
view.
u know u want to
):
it's like... the coolest. even my login screen is modified. thanks to stylexp
i've also found a cure for boredom. no idea wat to do online? go ahead to stumble.com
it's a addon tool to link u to other interesting webpages based on your interests. quite fun to play with it cause you really do stumble onto some interesting websites.
i've suddenly resorted to free advertisement. no interesting stuff to talk about anymore
IMU is 2 hrs lecture a day as usual. going in lightning fast speed. now already in central nervous system. next week is muscleskeletal system.
EVERY WEEK IS A NEW SYSTEM... AGRHHHH
and... this is quite delayed but anybody here planning to take SAT? cause my friend, kaye is selling her SAT books. get them from her cause she scored like gila high for the test. so the book has some extra luck to it.. hahaha. no guarantee about scoring as high as her though.