pangkor
9:36 am
say something!
(0)
time to tell abt my trip to pangkor (image heavy entry).
On Fri, my family and I woke up at 5am to arrive in KL at 7am. The we took a 4 hour bus trip to Lumut Jetty (cause the bus overshot on the highway... have to make a uturn of some sort)
On the bus I had the unfortunate exp of sitting infront of a guy who apparently have no idea how to sit properly. And that guy was 50+ (probably a doctor). He kept kicking my chair. And my chair wasn't even declined that low.
Dumb guy... so irritating.
The boat ride was approx 40 minutes. There were so many island, I actually didn't know which was pangkor or was even an island (cause maybe it's just mountainous regions attached to the peninsular)
The resort, Pangkor Island resort had their own private jetty so thankgodness the trip from the jetty to the resort was short (we were all very tired by then). The rooms were alright, with signs warning of monkeys. No monkeys seen though
So what we did there was basically eating, sleeping, walking on the beach, sleeping, eating.
The beach has quite a lot of westerners there. Most foreign women there notice our conservative dressing so they didn't bare it all but some still did.
much to the delight of local men, western men have seen enough i guess.

The sea water there was green. Not as much rubbish as Port Dickson but still... floating styrofoam packages, cigarette butts, slippers (dun ask me... luckily i didn't see a floating bikini) can be seen. The strangest thing is the amount of dead fish. It's really alot. I even saw a dead octopus (albeit on the tiny side)
The buffets served there were ok ok. Nothing to boast about. The breakfast yogurt is yummy though :D The bacon was dry, the prawns are always so oily, etc. But still... it's a buffet...lol
On the 2nd day, we went for the city tour. We first traveled to a factory making ikan bilis, dried seafood, etc. My mom of course was in her natural habitat and was one of the last to make payment (along with other fussy buyers) Me and my father went exploring... and we saw how they process the fish.
Then we went on to a temple. It's pretty famous but I can't remember the name. It has a mini great wall of china and a lot of monuments, statues to satisfy the gods. It also has cool donation boxes.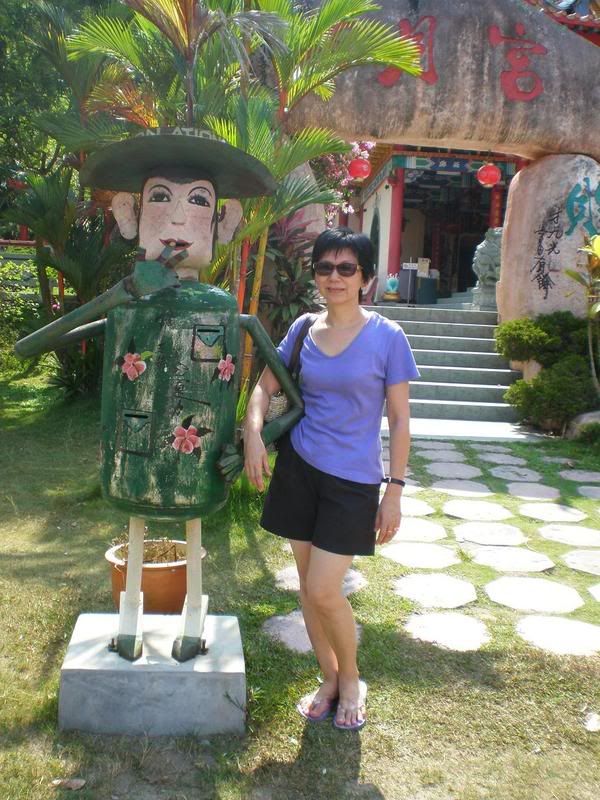 And toilet sign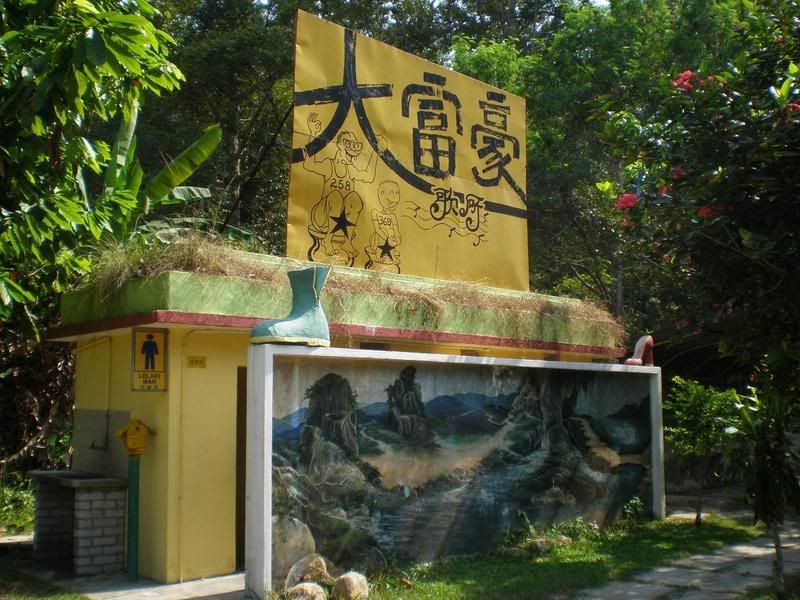 The dutch fort was one of our last stops. It was build to protect the tin ingots and a historical landmark to remember the signing of the Pangkor Treaty (ring a bell? form 3 history has rotted into nothingness)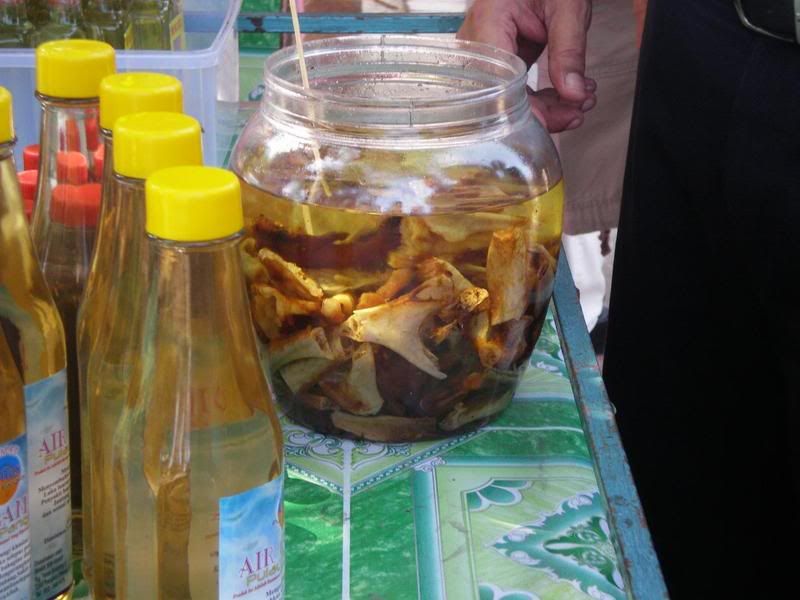 There was a small stall there selling camel's knee oil. Weird right? It claims to be able to cure gout, joint pains and nerve pain. Surprised to see some doctors were very curious about it like regular tourists...hahaha... i thought they would just dismiss it since medicine is basically facts and proven facts.
Then we finally stop in the city to look at the shops. Pretty much everywhere is selling the same stuff but they had some cool shell ornaments.
We came back... I built some weird sand sculptures (which of course kaye will not approve of. the sand is dirty..hahaha), my brother tried building a brick...(yes... a brick) and watched the sunset.
That pretty much highlights what went on during my trip there.
Pangkor's basically a place to relax and frolic in the beach to get away from the city life.
3 days and 2 nights is the optimal time to stay there. Once you've been there, u won't wanna go back there for another 1 year though.
Hahahhaa
tag! cause friends know when i'm bored
4:09 pm
say something!
(0)

5 things found in my bag
(bag=going-out-bag? lots of random stuff... friends shud know)
ice skating gloves

random brochures/advertisements handed to me while exploring shopping malls

socks

notepad

cinema stubs


5 things found in my wallet

IC, driver's license

weird panda bear thingy

Secondary student card (lol... i still use it in cinemas)

cash... lol

random drawings i did from years back


5 favourite things in my room

my computer

my bed

aircon. everybody loves airconditioning in m'sia

my clothes

my blanket

5 things I always wanted to do

Go travel the world. or at least get out of m'sia

play ps2 for 24 hrs straight

go on a shopping spree. lol... which i can nvr do

live without my conscience bothering me

go become a doctor.



5 things I'm currently into
Money. :P

hanging out with friends
greys anatomy and a lot more series.... i need my weekly fix. damn the stupid companies who still refuse to sign the damn writers' contract.
PS2 and PPC games
sewing. weird.....

Top 5 presents I wish for

Nintendo Wii
A personal maid/slave. any applicants?

an all expense paid trip to any destination i choose.
an auto car
a new digital camera. with manual functions. preferably a SLR camera

The person who tagged you is: siao chen

Your 5 impressions of him/her:

The one who is scary when she's mad
Gets high easily on caffeine
J-rock crazy.

has a weird liking for McD's table salt
partner in crime during secondary school

Most memorable thing she has done to you:
lol... not really to me. but it's camwhoring in xx's car.

If she becomes my lover, you will
probably be the poor husband/wife (whichever she prefers... lol) who will say anything to please her. hey... it's scary when she gets mad

If she becomes your enemy, the reason will be
if i accidentally knock down lucky with my kancil. hahahaha

Labels: tagged
update
3:56 pm
say something!
(0)
pictures and random rambling abt genting up in the g12 blog
here
genting
3:25 pm
say something!
(0)
just went genting with ex-g12ians- Preeyaa, Yi wen, Pei Chern, Sabrina, Wai Beng, Yik Ming.
Hhahahaha.. ended up late cause of various factors but in the end it was a superfun day. Quite tiring though... slept like a baby throughout the whole night.

Will update and post pics later in the G12 blog.

Will be going Pulau Pangkor next week with my family next.
Any idea what to do there?
School's reopen
10:36 am
say something!
(0)
Schools again reopen, the new batch of SAM students arrives and a new cycle begins again.

sigh... not so long ago we were in that position. Anxious to meet our new lecturers, worried we might not be able to "click" with our new classmates, wondering where in the world are all the classes are.

Instead, this year, me n my friends traveled back to college to sell our old books.
I sold mine totally too cheap.

DAMN

5 books (textbooks) for rm50. I could have easily sold it at rm100 or more.... ARGHHH
One tip to sell SAM books: go on the 3rd day after the students met all their lecturers cause all the persuading and crap will never get into new students head. They think seniors are out to swindle them of their money and they can only trust their lecturers.

Oh well... better than not selling at all. Some extra cash for myself no matter.

Other than that, a few days ago, I witness with my own eyes the stupidity of mat rempits.
A chinese boy was beaten up in front of my house by 4 malay mat rempits for no reason at all. He even offered the handphone but they didn't cease beating him. I was shocked to see his injury.... Enhanced by his white shirt, splotches of red blood can be seen all over with blood streaming down his head.
My mom and I couldn't really do anything cause it all happened so fast. In 5 seconds it was all over.
The mat rempits even stared at my mom who was just standing behind the gate.
Worse of all, it was the chinese boy's first day in subang.
He must be thinking what a hellhole subang is... which i can't say i disagree with him.

After that my mom told me other incidents of random act of violence. She said a mongolian man was beaten up after a few people robbed him until his ear was torn 1cm and there was a deep laceration on his head. He went to my father's clinic and he said his mom asked him to immediately return to Mongolia.
Another incident happen to a student renting the house beside mine. A student from china was robbed in broad daylight in front of her house. She too returned to China the very next morning.
Lastly was a businessman. He was using his stylo handphone when a car approached him asking for directions. Immediately the man inside tried to grab his hp but he didn't want to let go so they beat him up.

Such a violent world we live in. Subang is such a small place but everyday i'm sure at least one case of snatch theft occurs.
Sad to wake up in the morning and wonder:

"Will today be a bad day?"

Sigh
ROADTRIP!!!-pt 3
9:51 am
say something!
(0)
PENANG~~ after a long drive up from simpang pulai, crossing 2 borders (perak and kedah's) finally we reached penang. After paying a toll of rm7 (damn exp weh.... rm3.50 each way just to cross a bridge. they probably got back the money used to built the bridge already) to go to penang island.
We straight away headed to Goodhope Inn on Jalan Kelawi, the accommodation we booked days earlier. At rm120 a room, we weren't expecting much. Just as long as there was a clean bed and room.
Well... when we were shown the room, even with our low expectations we were slightly disappointed. The room was tiny with a double bed, a small tv and a squeezy bathroom. Kaye wasn't pleased at all with the cleanliness of the room (her being very picky and stuff.. lol)
The telephone in room was also hanging by a nail to the ceiling and later fell down when the receiver was picked up.
Not a good sign at all.
Later we found a cockroach in the bathroom and kaye with her keen sight spotted stains.
So we complained and chose to reduce our stay there to 1 night only, hoping to get a better place to stay the next few nights.
After all that, we had our bath (which was then i found out kaye was just as bad of a tv addict as i am) and headed out to Gurney Drive. I've heard stuff about Gurney Drive. Every single food you can eat in Penang is supposedly available there (though not necessarily the best) And it's true! It's a whole stretch of food stalls closed packed to each other. There are at least 3 stores selling asam laksa in an area so it was good to have yen and kaye pointing out which were the good and bad ones.
I also learnt that in penang, we order a whole bunch of food and share them together so everyone can taste each of the food ordered. Lol... penang definitely not a good place to maintain a diet. We ordered: asam laksa and muay chee. we actually wanted to eat the char kuey teow there but it started to rain so we had to make a dash for it.
At night.... me, kaye and yen or squeezed into on double bed. All of us didn't get a good night's sleep and we woke up the next morning quite early quite sleepy.
The first thing we did was head out to Lorong Selamat to try the famous sister's char kuey teow. It was then I realised that everywhere in Penang is somehow owned by those guys with a cap and a receipt book in their hands- parking attendants. Everywhere you park.... u have to pay (with the exception of hotel parking for guests)
The kuey teow stall somehow is no longer a place where ppl have to stand up to eat. They have their own proper place now serving drinks we can order. Oh... inside the store it had a sign saying: "Outside drinks not allowed. Food Ok." (or something like that) And it's true! We saw people bringing in food from other stalls and makan there and it's all alright with the owner as long as they order drinks.
The kuey teow here tastes different from the ones back in subang. In subang... it feels as if i'm drinking oil. Here it's less oily and it tastes more delicious somehow... (maybe cause they use charcoal to cook it)
me!
Yen then took us to Batu Ferringi but the sun was out blazing away so we didn't stop and instead went for a drive around the whole island
The roads are super windy here but we saw mini waterfalls scattered everywhere. Penang drivers are also quite teruk here. The whole car can be on the incoming lane side when turning a bend... hahahhaha
When we arrived back from penang, we saw a car overturned. I think no one was hurt though
For lunch... we went to Padang brown, another hawker centre. After paying parking fees (again) we wanted to eat the chein toufu (dunno how to spell also... haih) but it was sold out (much to yen's dismay. she came here twice before this and it was sold out too). The pasembur (a type of rojak?) here is pretty famous too so we ordered that, yam cake, siam mee, popiah and asam laksa. The siam mee was really good but i love the yam cake. Yam cakes are my favourites :D The asam laksa is also quite good but it was seriously lacking in fish. I remember the one i ate in pasar malam last time had full of fish meat in it but the asam laksa in penang hardly have any.
Later we visited yen's uncle in Lorong Abu Siti and he recommended us to stay over at Red Rock Hotel (previously known as Agora) cause it was newly opened. For rm171, we got a family room with 2 double beds and a much bigger room.
The scenery outside the windows were however.... non existent. But we didn't care. Kaye as usual kept watching TV with me (an uncle told us that we came all the way to penang to watch tv... lol) We later went out to dinner with yen's uncle who kindly belanja us to eat in a Thai restaurant called Prontip with his family.
I came to know Ian, the cousin kaye keeps talking about. He is about 5 years old and came running out his mom's shop went he saw us. He hugged kaye and announced that he loves kaye but hates me and yen.
Now I understand why kaye talks about him.
After the thai restaurant... we went to a shop called "mat tou yau" (meaning:everything got) selling desert. You can choose which ingredient you want to put into your desert (which is a sweet syrup drink) and they have a whole lot of ingredient. Should have taken a pic! We also ate a type of apom there which i can't recall the name! Indian style apom made with egg. Damn nice..... too bad you have to eat it while it's hot or not it becomes soggy and loses its crispiness. The uncle also showed around and bought us lobak on the way back. Very very generous of him
We slept the rest of the day and the next morning.... we had free breakfast at the hotel (which was ok ok la). Then we went to lebuh melayu to eat wan tan mee. (hehehhee... if you're wondering why i can remember all the street names... it's because i had to read the penang map which is a PITA cause penang roads are crazy confusing)
Food here is remarkably cheap even though it is a popular tourist destination. Probably because the portions are smaller too. But it's still more worth it to eat in Penang then in Subang. The wan tan mee is quite good. As yen says... the mee isn't starchy and the soup is not so heavily peppered with MSG.
Why is penang food so good... T_T
We headed back to the hotel later to bath and me and kaye camwhored!! (oh we changed rooms in the end cause our rprevious oom was located near the generator room and was freaking noisy. so we got a room with a much better view and space to camwhore.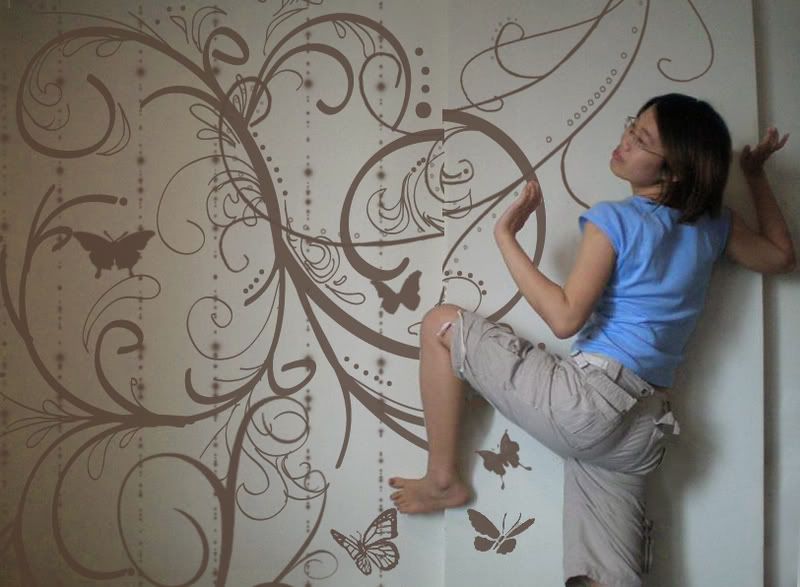 For lunch, we went to lebuh cecil which another hawker centre is located (mann... every corner you turn in penang has a hawker centre (at least near where our hotel is located)) There we ate the kari mi and kuey teow th'ng (what's with the apostrophe, i have no idea. But it's pronounced as theng i think)
The kuey teow th'ng also meaning kuey teow soup. Cooked with liver (which again nobody ate). Pretty delicious too.
We also tried to apom balik here. Quite nice... thinking about it makes me hungry T_T. They also sold apom balik with egg which i've nvr seen before in subang. Should have tried it there.
I forgot what we did next though.... hmmmmmmm... anyway... i remembered dinner (lol)
Again yen's uncle brought us out this time with him and his son only. Ian now has grew fond of me and yen cause-
me: i have a cool PDA phone which he can conteng on the screen using my stylus
yen: cause she can play dinner dash for him, passing the levels he can't play
(hahahhaha... kaye got abandoned)
The uncle brought us to a mamak stall to eat the tandoori there. Only rm6.50 for a whole tandoori leg with the garlic naan bread and all the curry.
Then he showed us around and told us about a ferry trip costing only RM60. The ferry brings you out to sea in the morning and back to penang at night. RM60 includes makan whole day. So cheap cause it's a gambling ship... hahahahha
Back to gurney drive we went and we tried the indian rojak there. Later I saw the store we ate at featured in the Star newspaper a day after I returned back to Subang. The stall is called Disco Pasembur cause the owner shakes his head while making your rojak. You can also choose what you want to put in you rojak with a variety of things. We also tried the ice kacang there and ate the muay chee there again.
My eye then started acting funny that night... It got quite sore that i was scared I was going to get the condition where you get a boil on your lower eyelid. Luckily it was just a strained eye. But I was pretty tired that night so I sort of forced kaye and yen to go back to the hotel early after they bought their dvds and cds at batu ferenggi. bleh... sorry guys! Noticed the night market there is pretty blatant in their show of support for privated stuff.... lol.
I woke up the latest the next morning and we had to go to yen's grandmother's place to fetch yen's mom and grandma to khoo kongsi, a weird place for ppl with khoo surname to gather.
On the way there yen pointed out to me a weird building done in the spirit of KLCC. looks pretty pitiful when you've seen the real thing
We finally manage to eat the chien toufu on the way there too... kuahahaa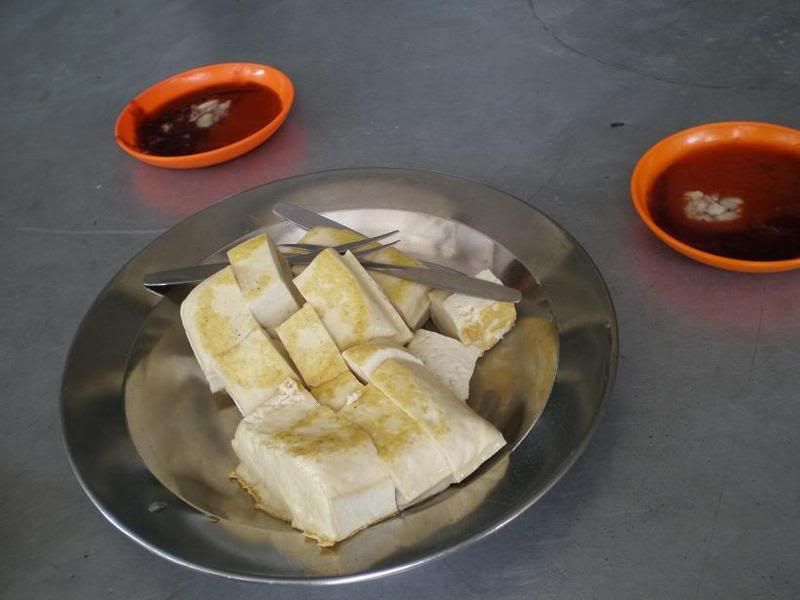 At Khoo kongsi, we had to pay rm5 which goes towards the restoration fund of the ancient chinese heritage building. Since we paid rm5... we figured we had to camwhore as much as possible... lol
Lol... returned to Kl the next day. Oh and bough some stuff in ipoh along the way.
Damn fun trip. Going out with friends for 4 days continuously will make you miss your family though...hahahhaa. Damn cacat la me... 5 days away and homesick already. But not that severe yet. I can see why people get so upset overseas since they won't be seeing their family for such a long time
That ends my roadtrip anyway. The 1st and 2nd days were the best cause we went to 3 states altogether... hahahhaha