xx's departure
10:12 am
say something!
(0)
Looks like I finally decided to make the effort to go downstairs and upload the pictures :D
13th dec was xia xun's departure date where he was to go to melb to study pharmcay in monash.
Anyway... since it was his last day with us, we (leonard, yen kaye, siao chen, me and xia xun) went to pyramid. On top of that... i fianlly got him his bday present too (cheating way though... he wanted to find headphones and when he decided on one i just offered to pay for him as his bday present. lol... he said he would have chosen a more expensive type if he knew i was going to pay for it)
They all played with my hat and camera while i was in the toilet. ahahahhaa
after that, xia xun had to go back to pack and get ready for his 9:15 pm flight.
leonard somehow manage to get a van to fit me, yen kaye, yen yen, stephanie, melissa, caroline and siao chen so we could all go to the airport. If it wasn't for him we wouldn't have made it there. When we arrived, we had a mini get together at the klia mcds.
we asked xia xun to pose as a last camwhore session.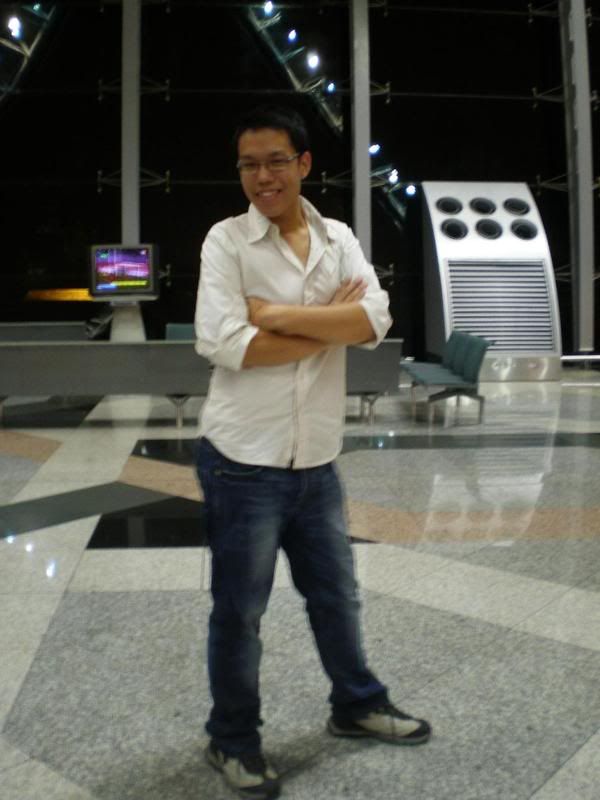 then it was finally time for him to depart. We said our goodbyes and off he went to the gate
we all will prob miss his gila antics, lame jokes and camwhoring session.
remember to have a drastic change when you return end of the year so you can wow us with your new appearance
hahahha