ROADTRIP!!!-pt 3
9:51 am
say something!
(0)
PENANG~~ after a long drive up from simpang pulai, crossing 2 borders (perak and kedah's) finally we reached penang. After paying a toll of rm7 (damn exp weh.... rm3.50 each way just to cross a bridge. they probably got back the money used to built the bridge already) to go to penang island.
We straight away headed to Goodhope Inn on Jalan Kelawi, the accommodation we booked days earlier. At rm120 a room, we weren't expecting much. Just as long as there was a clean bed and room.
Well... when we were shown the room, even with our low expectations we were slightly disappointed. The room was tiny with a double bed, a small tv and a squeezy bathroom. Kaye wasn't pleased at all with the cleanliness of the room (her being very picky and stuff.. lol)
The telephone in room was also hanging by a nail to the ceiling and later fell down when the receiver was picked up.
Not a good sign at all.
Later we found a cockroach in the bathroom and kaye with her keen sight spotted stains.
So we complained and chose to reduce our stay there to 1 night only, hoping to get a better place to stay the next few nights.
After all that, we had our bath (which was then i found out kaye was just as bad of a tv addict as i am) and headed out to Gurney Drive. I've heard stuff about Gurney Drive. Every single food you can eat in Penang is supposedly available there (though not necessarily the best) And it's true! It's a whole stretch of food stalls closed packed to each other. There are at least 3 stores selling asam laksa in an area so it was good to have yen and kaye pointing out which were the good and bad ones.
I also learnt that in penang, we order a whole bunch of food and share them together so everyone can taste each of the food ordered. Lol... penang definitely not a good place to maintain a diet. We ordered: asam laksa and muay chee. we actually wanted to eat the char kuey teow there but it started to rain so we had to make a dash for it.
At night.... me, kaye and yen or squeezed into on double bed. All of us didn't get a good night's sleep and we woke up the next morning quite early quite sleepy.
The first thing we did was head out to Lorong Selamat to try the famous sister's char kuey teow. It was then I realised that everywhere in Penang is somehow owned by those guys with a cap and a receipt book in their hands- parking attendants. Everywhere you park.... u have to pay (with the exception of hotel parking for guests)
The kuey teow stall somehow is no longer a place where ppl have to stand up to eat. They have their own proper place now serving drinks we can order. Oh... inside the store it had a sign saying: "Outside drinks not allowed. Food Ok." (or something like that) And it's true! We saw people bringing in food from other stalls and makan there and it's all alright with the owner as long as they order drinks.
The kuey teow here tastes different from the ones back in subang. In subang... it feels as if i'm drinking oil. Here it's less oily and it tastes more delicious somehow... (maybe cause they use charcoal to cook it)
me!
Yen then took us to Batu Ferringi but the sun was out blazing away so we didn't stop and instead went for a drive around the whole island
The roads are super windy here but we saw mini waterfalls scattered everywhere. Penang drivers are also quite teruk here. The whole car can be on the incoming lane side when turning a bend... hahahhaha
When we arrived back from penang, we saw a car overturned. I think no one was hurt though
For lunch... we went to Padang brown, another hawker centre. After paying parking fees (again) we wanted to eat the chein toufu (dunno how to spell also... haih) but it was sold out (much to yen's dismay. she came here twice before this and it was sold out too). The pasembur (a type of rojak?) here is pretty famous too so we ordered that, yam cake, siam mee, popiah and asam laksa. The siam mee was really good but i love the yam cake. Yam cakes are my favourites :D The asam laksa is also quite good but it was seriously lacking in fish. I remember the one i ate in pasar malam last time had full of fish meat in it but the asam laksa in penang hardly have any.
Later we visited yen's uncle in Lorong Abu Siti and he recommended us to stay over at Red Rock Hotel (previously known as Agora) cause it was newly opened. For rm171, we got a family room with 2 double beds and a much bigger room.
The scenery outside the windows were however.... non existent. But we didn't care. Kaye as usual kept watching TV with me (an uncle told us that we came all the way to penang to watch tv... lol) We later went out to dinner with yen's uncle who kindly belanja us to eat in a Thai restaurant called Prontip with his family.
I came to know Ian, the cousin kaye keeps talking about. He is about 5 years old and came running out his mom's shop went he saw us. He hugged kaye and announced that he loves kaye but hates me and yen.
Now I understand why kaye talks about him.
After the thai restaurant... we went to a shop called "mat tou yau" (meaning:everything got) selling desert. You can choose which ingredient you want to put into your desert (which is a sweet syrup drink) and they have a whole lot of ingredient. Should have taken a pic! We also ate a type of apom there which i can't recall the name! Indian style apom made with egg. Damn nice..... too bad you have to eat it while it's hot or not it becomes soggy and loses its crispiness. The uncle also showed around and bought us lobak on the way back. Very very generous of him
We slept the rest of the day and the next morning.... we had free breakfast at the hotel (which was ok ok la). Then we went to lebuh melayu to eat wan tan mee. (hehehhee... if you're wondering why i can remember all the street names... it's because i had to read the penang map which is a PITA cause penang roads are crazy confusing)
Food here is remarkably cheap even though it is a popular tourist destination. Probably because the portions are smaller too. But it's still more worth it to eat in Penang then in Subang. The wan tan mee is quite good. As yen says... the mee isn't starchy and the soup is not so heavily peppered with MSG.
Why is penang food so good... T_T
We headed back to the hotel later to bath and me and kaye camwhored!! (oh we changed rooms in the end cause our rprevious oom was located near the generator room and was freaking noisy. so we got a room with a much better view and space to camwhore.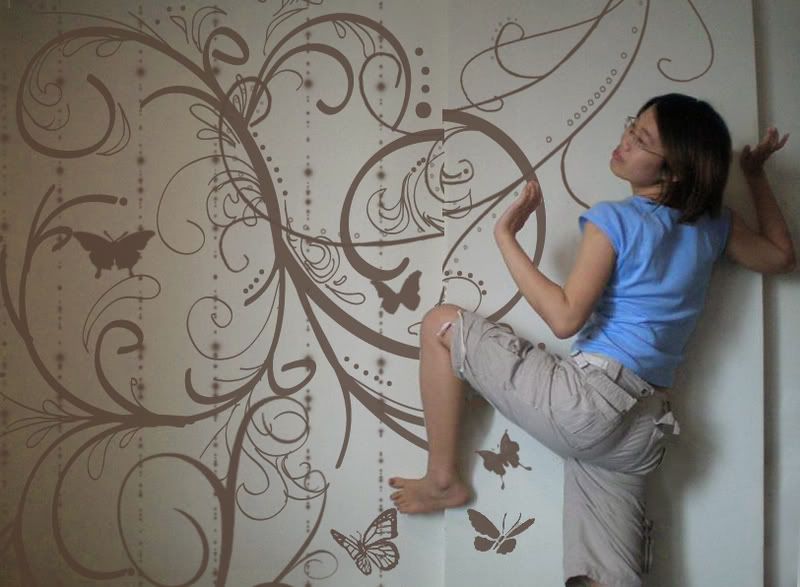 For lunch, we went to lebuh cecil which another hawker centre is located (mann... every corner you turn in penang has a hawker centre (at least near where our hotel is located)) There we ate the kari mi and kuey teow th'ng (what's with the apostrophe, i have no idea. But it's pronounced as theng i think)
The kuey teow th'ng also meaning kuey teow soup. Cooked with liver (which again nobody ate). Pretty delicious too.
We also tried to apom balik here. Quite nice... thinking about it makes me hungry T_T. They also sold apom balik with egg which i've nvr seen before in subang. Should have tried it there.
I forgot what we did next though.... hmmmmmmm... anyway... i remembered dinner (lol)
Again yen's uncle brought us out this time with him and his son only. Ian now has grew fond of me and yen cause-
me: i have a cool PDA phone which he can conteng on the screen using my stylus
yen: cause she can play dinner dash for him, passing the levels he can't play
(hahahhaha... kaye got abandoned)
The uncle brought us to a mamak stall to eat the tandoori there. Only rm6.50 for a whole tandoori leg with the garlic naan bread and all the curry.
Then he showed us around and told us about a ferry trip costing only RM60. The ferry brings you out to sea in the morning and back to penang at night. RM60 includes makan whole day. So cheap cause it's a gambling ship... hahahahha
Back to gurney drive we went and we tried the indian rojak there. Later I saw the store we ate at featured in the Star newspaper a day after I returned back to Subang. The stall is called Disco Pasembur cause the owner shakes his head while making your rojak. You can also choose what you want to put in you rojak with a variety of things. We also tried the ice kacang there and ate the muay chee there again.
My eye then started acting funny that night... It got quite sore that i was scared I was going to get the condition where you get a boil on your lower eyelid. Luckily it was just a strained eye. But I was pretty tired that night so I sort of forced kaye and yen to go back to the hotel early after they bought their dvds and cds at batu ferenggi. bleh... sorry guys! Noticed the night market there is pretty blatant in their show of support for privated stuff.... lol.
I woke up the latest the next morning and we had to go to yen's grandmother's place to fetch yen's mom and grandma to khoo kongsi, a weird place for ppl with khoo surname to gather.
On the way there yen pointed out to me a weird building done in the spirit of KLCC. looks pretty pitiful when you've seen the real thing
We finally manage to eat the chien toufu on the way there too... kuahahaa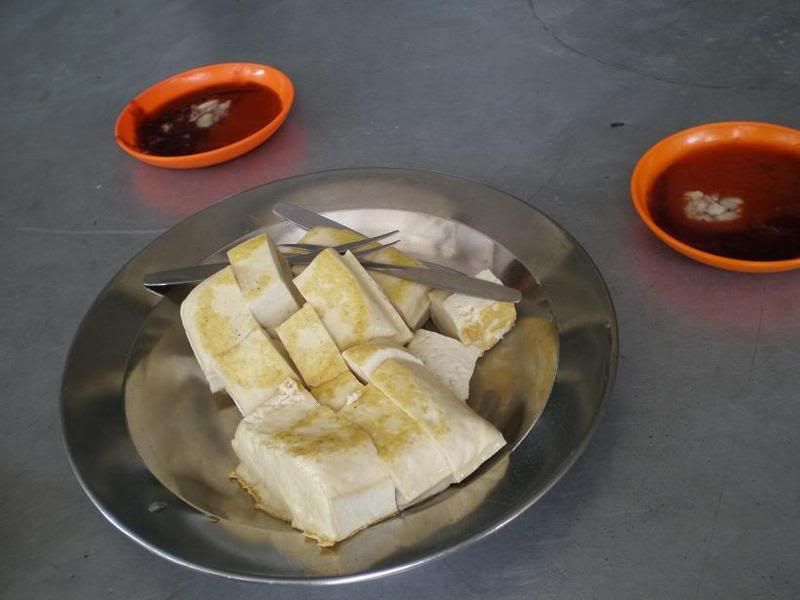 At Khoo kongsi, we had to pay rm5 which goes towards the restoration fund of the ancient chinese heritage building. Since we paid rm5... we figured we had to camwhore as much as possible... lol
Lol... returned to Kl the next day. Oh and bough some stuff in ipoh along the way.
Damn fun trip. Going out with friends for 4 days continuously will make you miss your family though...hahahhaa. Damn cacat la me... 5 days away and homesick already. But not that severe yet. I can see why people get so upset overseas since they won't be seeing their family for such a long time
That ends my roadtrip anyway. The 1st and 2nd days were the best cause we went to 3 states altogether... hahahhaha