pangkor
9:36 am
say something!
(0)
time to tell abt my trip to pangkor (image heavy entry).
On Fri, my family and I woke up at 5am to arrive in KL at 7am. The we took a 4 hour bus trip to Lumut Jetty (cause the bus overshot on the highway... have to make a uturn of some sort)
On the bus I had the unfortunate exp of sitting infront of a guy who apparently have no idea how to sit properly. And that guy was 50+ (probably a doctor). He kept kicking my chair. And my chair wasn't even declined that low.
Dumb guy... so irritating.
The boat ride was approx 40 minutes. There were so many island, I actually didn't know which was pangkor or was even an island (cause maybe it's just mountainous regions attached to the peninsular)
The resort, Pangkor Island resort had their own private jetty so thankgodness the trip from the jetty to the resort was short (we were all very tired by then). The rooms were alright, with signs warning of monkeys. No monkeys seen though
So what we did there was basically eating, sleeping, walking on the beach, sleeping, eating.
The beach has quite a lot of westerners there. Most foreign women there notice our conservative dressing so they didn't bare it all but some still did.
much to the delight of local men, western men have seen enough i guess.

The sea water there was green. Not as much rubbish as Port Dickson but still... floating styrofoam packages, cigarette butts, slippers (dun ask me... luckily i didn't see a floating bikini) can be seen. The strangest thing is the amount of dead fish. It's really alot. I even saw a dead octopus (albeit on the tiny side)
The buffets served there were ok ok. Nothing to boast about. The breakfast yogurt is yummy though :D The bacon was dry, the prawns are always so oily, etc. But still... it's a buffet...lol
On the 2nd day, we went for the city tour. We first traveled to a factory making ikan bilis, dried seafood, etc. My mom of course was in her natural habitat and was one of the last to make payment (along with other fussy buyers) Me and my father went exploring... and we saw how they process the fish.
Then we went on to a temple. It's pretty famous but I can't remember the name. It has a mini great wall of china and a lot of monuments, statues to satisfy the gods. It also has cool donation boxes.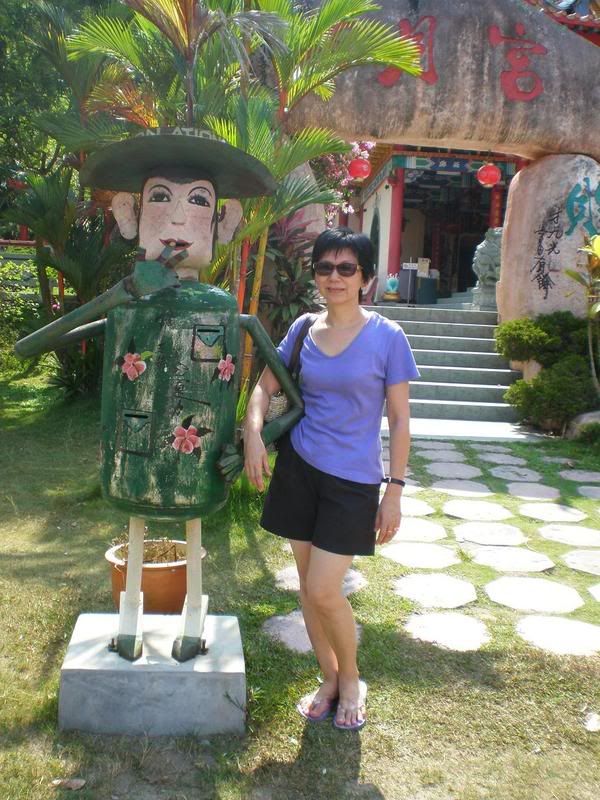 And toilet sign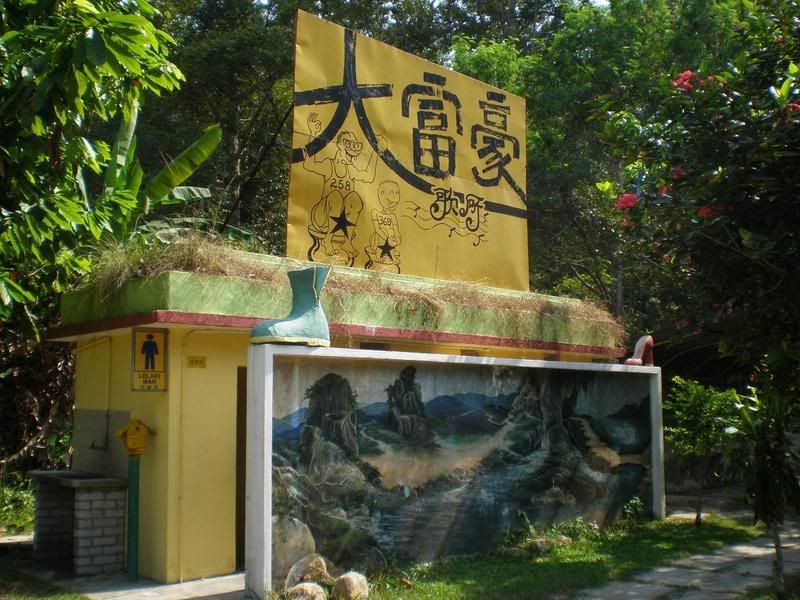 The dutch fort was one of our last stops. It was build to protect the tin ingots and a historical landmark to remember the signing of the Pangkor Treaty (ring a bell? form 3 history has rotted into nothingness)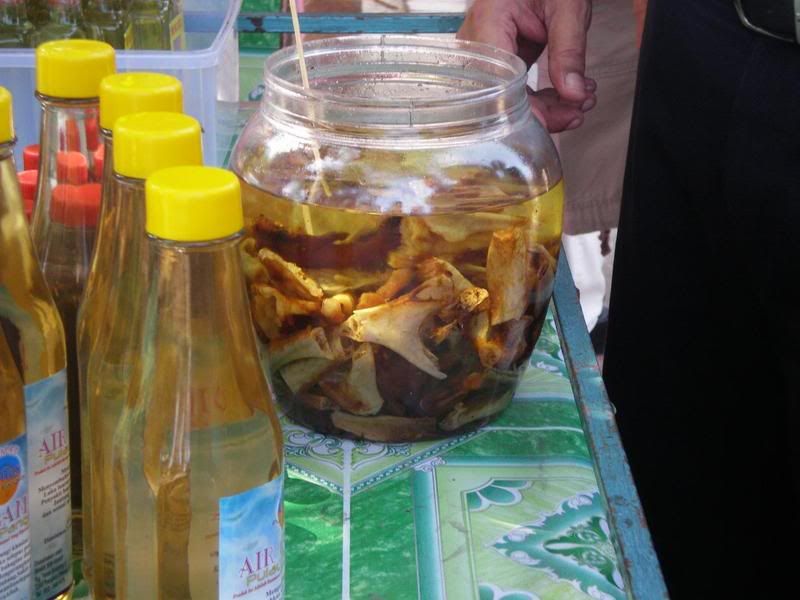 There was a small stall there selling camel's knee oil. Weird right? It claims to be able to cure gout, joint pains and nerve pain. Surprised to see some doctors were very curious about it like regular tourists...hahaha... i thought they would just dismiss it since medicine is basically facts and proven facts.
Then we finally stop in the city to look at the shops. Pretty much everywhere is selling the same stuff but they had some cool shell ornaments.
We came back... I built some weird sand sculptures (which of course kaye will not approve of. the sand is dirty..hahaha), my brother tried building a brick...(yes... a brick) and watched the sunset.
That pretty much highlights what went on during my trip there.
Pangkor's basically a place to relax and frolic in the beach to get away from the city life.
3 days and 2 nights is the optimal time to stay there. Once you've been there, u won't wanna go back there for another 1 year though.
Hahahhaa